[symple_tabgroup] [symple_tab title="
FREE Prestashop CMS
"]
FREE Prestashop CMS in Thailand
Free PrestaShop CMS + VISA payment. (Via PBS) – PrestaShop open source e-commerce solution used in 150 countries and translated into 56 languages. Show your products in a unique way and give your customers the best opportunities to find and read about the desired products. When you get more visitors, your conversion increase.
Moreover, it improves your rankings in Google. PrestaShop is the most used Webshop system and 100% your software that you can take with you if you want to involved in changing provider in the future.
See and buy themes / designs for Prestashop from Template Monster – Click Here!
See and buy themes / designs for Prestashop from ThemeForest – Click here!
What's in your new shop system:
• Hosting and backup and free support • E-mail system for sale through newsletters • Professional e-mails "- 10 pcs. included (eg
[email protected]
ænenavn.dk) • Direct integration with Google+, Facebook & Twitter • Modules: Payment Gateway and over 30 different modules
All functions are integrated in the software and is 100% free.
PrestaShop comes complete with over 310 functions that have been carefully developed to help business owners increase online sales. You can easily manage a dynamic product list by PrestaShop Back-Office. Whether your web store only has one product or thousands, you with the advanced administrative interface with a few clicks to manage the most complex calculations with updates. Import and Export, sorting of products, setup of bulk discounts and much more are also easily accessible. Handling of products has never been easier with PrestaShop.
Masseadministration
In PrestaShop you can effectively handle a large set of products with mass transfers and updates. You can easily make changes in product attributes with the click of a button, or you can change the products individually. PrestaShop is equipped to take your manufacturer's product list and upload the entire file directly to the shopping cart. It's also easy to upload Excel files. You'll soon see your new store come to life.
Export to eBay m.m
Create a new sales channel by placing the products on third-party product listings such as eBay, Amazon, Google Shopping and several other lists. Not only will these efforts mean that your business and your shop will be exposed to more new visitors. The presence of these platforms will also improve your rankings on search engines. PrestaShop e-commerce software comes integrated with eBay, while others can be found in your Addons store. You just need to configure the module for the website and products will begin to integrate the major shopping sites following a few simple steps.
Select the number of products per page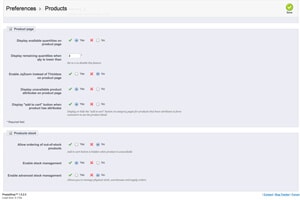 Select how many products you want per page, and what properties are displayed. PrestaShop Back Office allows you to easily enable and disable certain preferences – eg. when the "add to cart" message to not be visible. You also have the option to display products "out-of-stock." Customize specific properties and decide which attributes you want to display on a given page.
Cross-selling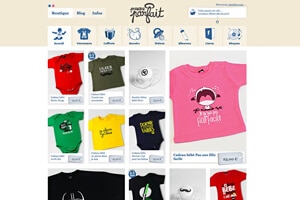 Cross-sell / upsell offers customers products or services in relation to each other. By bringing together elements on one page gives you access to offer more options for customers. Cross-selling / upselling increase your conversion and allows you to show the variation of your products.
Sell ​​download products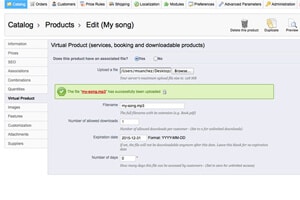 If your company is engaged in the sale of downloadable products such as software, music, pictures, movies or TV shows? With PrestaShop, you have many options available to better manage these products. You can, for example. display a sekevens as part of the product specification. You can make your products available as a download or as an e-mail link that is sent to the customer after completion of booking and payment.
Unlimited products, categories and attributes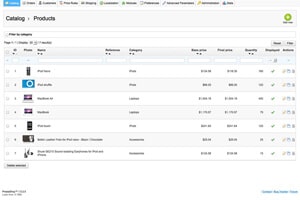 In PrestaShop you can easily organize your categories, products and attributes. There are no restrictions on the number and amount of categories, products and properties that you can display and sell in your store. An attribute could be a specific configuration of a product, such as size, color and etc. Pricing, weight and other specifications can be adjusted dynamically based on the selection.
Product Comparison
If there are many different alternatives in connection with a purchase, it may be difficult for the client to make a decision. In PrestaShop you can compile with comparable products. It exempts the customer from having to guess the or switch between multiple products. And make it more accessible to the customer to make the final buying decision and send the product to cart. This feature is definitely promotion of webshops and will certainly also increase your conversion in your webshop.
Navigation Kraftfuld
Navigation organize categories and products on all pages of your e-commerce site. Customers do is not click the back button on their browser. They may just find a category they are interested in and click directly to the product from the navigation bar. PrestaShop has layered navigation that not only makes catalog browsing easy, but also very SEO friendly. Each URL in the layered navigation is adapted to position the product names, colors, etc. This allows customers to write a specific product in the search engines and land directly on your product page.
Advanced inventory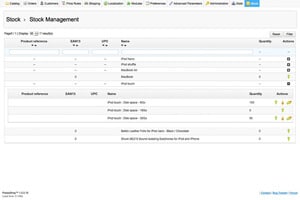 In order to ensure greater efficiency for your business PrestaShop v1.5 contains an inventory management tool that allows you to get a full overview of your physical inventory and availability. Now you will be able to manage your physical inventory, including the establishment of supply orders and you get a view of your inventory through clear and specific interfaces. This inventory management tool will be built compatible with the new multi-store operation. Finally, you have flexibility in handling customer orders where a feature that allows partial deliveries are also available.
Quantity in stock
Do you want to let customers know that you have only two units in stock of a particular product? PrestaShop allows you to display when products are almost sold out. You can also choose to display a running total of the number of product in stock at all times. As sales of the products reduces inventory will be stated in the product description. This view of the number of products available has proven to be promotional. Online customers tend to feel animated to buy items with low inventory.
Offer more pictures of each product
You probably have some great photos to show to interested customers. PrestaShop allows you to place as many product photos as you want. Good pictures help customers make decisions, and allows you to show all angles of a product. Many pictures will increase your conversion rate.
Zoom in on the product
Zoom In function gives shoppers more insight into what they are buying. Please zoom allows customers by running your mouse over a product to enlarge a particular area to get a closer look. This feature is great for accessories, tools and clothing. Simply upload high resolution photos and activate
Related Products
"Shows related products" is a great tool to "up-sell" customers while they browse a product page, or during final action at the checkout. This feature allows you to choose the products that are related to each other, and show them to your customers. For example, it may be an alternative model for a dishwasher or additional accessories to wear with a dress. This function will show the alternatives below the product description.
Add to Wishlist
Wish lists are a wonderful feature that allows customers to create lists for future purchases. Shoppers in your PrestaShop example. fall for a product not just of stock, or they want to buy a product associated with a specific later date. With Wish Lists feature lets customers keep the products stored. You can also send automatic emails to remind customers of their wish list. Or send messages about a product on the wish list is now available.
Product Reviews
Customers can report products they like, by posting a review in real time. Browsing Shoppers can then read the reviews as they watch products. Product Reviews are one of the best forms of marketing. By asking for feedback on the products you are giving customers a voice and let others know what people think about your products.
Send to a friend
Allow customers to post their favorite product to a friend. It is not just about increasing exposure to your online store, but also that customers interact with your store. Customers can email a product or send it via their favorite social networking site. This feature is a great way to get others to promote your products.
Managing permissions and users
You can create as many users as necessary – with specific permissions set for each user. You may only allow a user to edit product or see "Order Statistics"? In PrestaShop you can assign specific settings for each user.
Fully customized design. Using Templates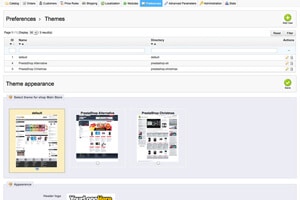 PrestaShop comes with a great basic template that can be customized to your needs. All templates can be customized from A to Z. You can also download two alternative free templates from PrestaShop Addon store. Do you have special requirements for your template? PrestaShop offers a variety of templates that you can choose based on your industry or your design preferences.
Customize logo on the invoice favicon and header
Make sure that your website shows your company's "brand" and leaves a lasting impression on customers. Upload your logo in Back-Office and place it in your header on your bill and your favicon.
Select the language to be displayed
Enable multiple languages ​​your store. PrestaShop comes with five additional languages ​​- English, French, Spanish, German and Italian. All translations are provided by professional oversættere.Du can therefore be sure that the grammatical errors that usually occur in the robot translations do not show up in PrestaShop. Need more languages​​? PrestaShop offers 41 free language packs that you can download and install with just a few clicks.
Edit content via CMS
A Content Management System (CMS) allows you to easily edit pages with content, upload photos, and more. Create pages for your contact, business and political information via the PrestaShop Back-Office. You can also set various user groups and assign permissions to allow others to edit informational pages.
Manage performance (speed, cache cookies)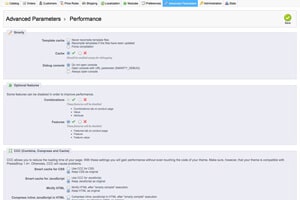 Reduce the load time by increasing performance. PrestaShop allows you to compress files and configure server settings to reduce the amount of information that is drawn each time a visitor loads a page. With PrestaShop allows you to create a faster way to encrypt cookies and collect PHP database queries. Improving the speed will also improve your rankings on search engines.
CRM, ERP … integration
Customer Relationship Management (CRM) og Enterprise Resource Planning (ERP) er software-programmer, der kan hjælpe med at automatisere operationer, spore salg og organisere kommunikationen. Hvis du i øjeblikket har et CRM-og / eller ERP, vil PrestaShop kunne integreres problemfrit med din software. Du kan tilslutte salgsoplysninger med kundeemner, eller relationer kan spores via en CRM.
Customize your store without changing the core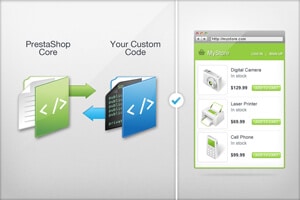 You can make changes to files without having to change the overall source code. For example: If you want to create a custom field for product catalogs, you can do so without worrying about changing the entire PrestaShop code and make mistakes when you graduate. When it's time to upgrade, you can be sure that all data remains intact. This makes editing easier and gives you the freedom to customize to your needs.
Multi Store Management
With options for multiple currencies, multiple languages ​​and multiple domains to multi-store operation to complete, efficient and integrated in PrestaShop. Multi Store will allow you to manage multiple stores from a single back-office.
One page checkout
Online shoppers are always looking for the fastest way to check out on. And PrestaShop allows you to make it easy for customers with "A Side" box. Your customers will enjoy the simplicity of the payment phase and the number of aborted purchase process will be reduced Boost your sales conversion and increase the ease with PrestaShop.
Ability for customers to create an account or continue as guest
Customers have the option of free to create an account, or they can continue to use the shop as a guest. This option allows your customers flexibility. With a personal account, they can return to the shop where their data will be stored. The ability to act as a guest increase your conversion as it offers customers the fastest way to purchase items.
Gift – Messaging – Gift Wrapping
At checkout you can give customers an opportunity to order gift packages of the goods ordered. Shipments can also be personalized by attaching messages. This feature is great for special occasions and holidays. Your customers will appreciate this opportunity, and the function will animate them to buy gifts in your shop – again and again.
Save products in your shopping cart
Give your clients time to think – and increase your conversion rate. Customers can keep selected items in their carts, and you can configure a time when the elements are removed. Customers do not have to browse through your catalog again. They just need to click on "Order". Your customers save time and your sales increase!
Discounts
A customer is always happy to get free shipping. You can set multiple incentives in freight rates. You can, for example. offer Free delivery shipping on orders over a certain amount. Customers will book without hesitation. You can also offer forsendelsrabatter based on destination and weight.
Charges by price or weight
You can create your shipping rates compared to the price or the weight of the products. Shipping cost will be calculated exactly the way you want. For each transport company or airline you're working with, you can set individual prices and weight ranges, so you always offer the best shipping rates to customers.
Integrated messaging system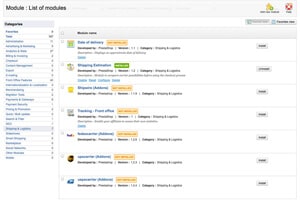 PrestaShop comes with a number of freight company modules ready to use with a few simple steps. Install and configure them with your account. Your customers can choose their preferred transportation method – based on experience, price or destination. Pricing is calculated automatically for customers – based on weight and destination.
Payment via credit card, check, bank transfer and more (unlimited)
Each country has its own payment preference. Therefore PrestaShop open to a wide range of payment methods. PrestaShop comes with many modules embedded in each free download. You can also choose the payment modules from PrestaShop Addons store.
Shopping Cart – Campaign Rules
Easy addministration of your store guidelines for pricing with an ergonomic interface. With PrestaShop v1.5, you can offer discounts on items in your customers shopping cart. This is, for example. a practical way to make your customers aware of special offers ("Buy two, get one free ….")
Automated follow-up emails
In order to retain your customers, it is important to achieve a strong brand loyalty. Thanks to PrestaShop powerful modules, you can send automatic emails and discounts on different criteria.
You can, for example. decide to send emails based on what customers have bought – or draw attention to bestsellers. You may send information and offers for products that your customers care about.
Newsletters – Subscriptions
At checkout you can give customers an opportunity to have their order delivered in gift wrapping or personalize it with a unique message. This feature is great for special occasions and holidays. Customers appreciate this opportunity and will buy gifts on a regular basis.
Loyalty Program
Offer rewards to your customers! PrestaShop loyalty program allows you to assign points to your customers for each product they buy. Customers can then convert these points into real discounts. In your Back-Office, you can create the value of a point and a minimum amount in order to use the discount.
Refer-a-Friend Program
There is nothing like word-of-mouth buzz! Allow your customers to refer your store to their friends and reward them for each new order, they bring a special discount that you configure with a few clicks.
Coupons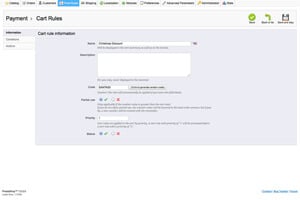 You can improve your sales and gain more customers by offering coupons! In PrestaShop you can create coupons and coupon codes for many occasions. You can individually determine the amount or the discount, customers must be able to achieve. You can set the number of coupons and select various occasions to the issue. Coupons is a great way to increase sales.
Business to Business
PrestaShop now includes a new B2B interface that makes buying and selling of goods and services between companies easy and effective. With this new feature you can keep track of all your B2B sales associated with that you handle every aspect of your online business.
Centralized after-sales service
The integrated customer service function has been enhanced to now centralizes all your messages from different sources. You will no longer have to struggle to find a message somewhere in your store or e-mail. Now all communication devices will be combined under a single tab.
Track Your Visitors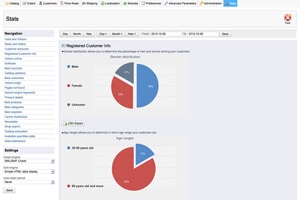 Find out what your visitors are looking for and where they come from. PrestaShop offers powerful statistical data that allows you to identify customer profiles and track the pages visited, categories and products.
Track orders and sales
Track all orders and total sales directly from your Back-Office. See which days you reach your sales goals, and the days where it may not go so well. Follow your store's sales performance and monitor campaigns from your Back-Office. PrestaShop makes it easy to keep track of your success.
Catalogue with statistics
Track your customers' favorite products thanks Prestashops advanced catalog data. You can also see statistics on how your content is performing. Observe whether your customers will respond to your product descriptions. You can also check the quality of the photos. With a single click you can check your bestsellers and Top Categories.
[/symple_tab] [symple_tab title="Function List for Webshop CMS"]
Generelt
Fixed price, free traffic and unlimited revenue
250mb, 500MB & 1GB disk space (more can be purchased)
New and fireproof raid servers (all in the server double)
Daily backup and manned surveillance 24 hours a day
Products and groups
Unlimited no. and families
Title, short and long description and unlimited number of images
Unlimited number of product variants (eg. Color, size, images, etc..) Ability showcasing stock number

1.Variant generator that makes it easier to handle multiple product variations *
2.Mulighed to increase or decrease the price per. product
3.Mulighed to change colors, frames per second. product variant

Quantity Discount on all products
Possibility related products
Chance of accessories for products
Option to automatically remove out of stock items from the store
Option to show icon (or offers, news) per. product by date management
Ability to create product specifications (data)
Ability to create product configurator
Ability to download the file-products
Possibility for separate control of home products (random impressions)
B2B and or advanced discount management
Customers and Products can be assigned to customer discount group or customer price groups
Ability to reduce all products with value for members of one or more groups
Product Discount as example: Product sales price can be based on combinations of one or more of the following: product, product category, customer, customers, price group

1.Et or more products must have 10% discount if you buy more than 2 pcs.
2.Et specific product should cost £ 10 (instead of 20 million) if a specific customer buys it.
3.All products in a specific product category, which is also associated with a specific product discount group to receive 10% discount.

The system can automatically find the lowest price by sotering on the user side
Statistics
Integration with Google Analytics
Sales and order:

1.Total turnover
2.Total of orders
3.Total sold products
4.Største order
5.Mindste order
6.Gennemsnitlig shopping
7.Bedste day
8.Værste day
9.Bedste customers
10.Bedste gift card
11.Bedste products
12.Bedste freight distribution
13.Salg per. long
Visits and visitors:
14.Antal visit
15.Antal unique visitors
16.Antal visits have stopped even
17.Number visits have stopped the purchase directly for registration
18.Fordeling between purchase
19.Fordeling between age
20.Antal customers online right now
21.Antal visitors online now
22.Bedste suppliers
Systems:
23.Brug of web browsers
24.Brug systems
Product Category:
25.Produkter available
26.Gennemsnitlig price (basic price )
27.Produktsider seen
28.Produkter purchased
29.Gennemsnitligt number of pages visited
30.Gennemsnitligt number of purchases
31.Billeder available
32.Gennemsnitligt number of images
33.Produkter never seen
34.Produkter never bought
35.Hvor many purchases versus sales
36.Bedste categories
Partner ( Affiliate ) :
37.Omsætning
38.Ordrer
39.Besøg
Web:
40.10 most popular referring sites
41.Antal pages not found
42.Geografisk distribution
43.Unikke hits on website
44.Hits from domain
keyword:
45.Mest used as keywords from Google
46.Søgeord profit from eg Google
47.Mest used keywords in the web shop
Prices , currency and VAT
Selectable currency on . language
Stand alone or variable rate per . product
Automatic control of VAT for sale in / abroad
Shipping and payment
Selectable currency on. language
Electronic payment solution via PBS. Supports VISA, VISA / VISA, VISA, MasterCard, Eurocard, Diners Club, e-VISA Others Integration with all major acquirers in Scandinavia and Europe.
Electronic payment system with eWire, PayPal, DIBS, Google checkout and Micropayment
Secure encrypted payment with SSL
Unlimited number betalingssformer
Unlimited number of cargo types
Possibility of integration with GLS Parcel Shop
Option to automatically calculate the shipping price
Ability weight ranges
Option to automatically calculate payment / shipping fee
Possibility of optional payment restrictions (which country to use the debit card)
Order Handling and customers
Complete order management with the option of printing the order confirmation, invoice & delivery notes
Automatic send e -mail ( order confirmation ) to the customer upon purchase and editing of the order
Order in which the customer can follow the handling of his order by an order login
Ability to control retunering order via login
Send e-mail to the store owner at incoming orders
Ability to modify the customer data
Recognition of customers – the system remembers your name, address , email, etc.
Automatic Google maps on delivery address
The ability to print labels
EAN number for public institutions
Opportunity for Business 2 Business
Possibility of alternative delivery address
Administration: User Management
Users can be grouped with one or more user
Each user can be assigned one or more functions in the administration pages
Import and Export
Import / export of products and product groups in CSV and XML format
Import / export of customer data in CSV and XML format
Design and construction
Large selection of standard templates
All configuration of texts, buttons, links , shop info , etc. – everything is editable
Automatic scaling of images
Possibility of implementing own HTML code in text
Ability to upload documents , audio, video files and the like .
Advanced search ( full text search
Discount Coupon
Ability to set up voucher that users can use upon completion of order

1.Rabatkode ( a code that the customer / clients to enter in the front)
2.Evt . maximum number of times the code can / should be used
3.Beløb coupon ( fixed discount or an overall percentage of the entire order )
4.Evt . period ( start and finish dates )
Gift Certificates
Gift card includes the following features :
5.Minimums amount
6.Gavekortet expire after X number of months ( selectable)
Search engine optimization
Search Engine "friendly" URL structure
Search Engine "friendly" building pages and content ( the default templates )
Chance Redirect pages : Ensures your best placed links , for example . Google is diverted by moving the page or moving from another shop system
Affiliate Program
Creating affiliate program with url to client website
Ability to specify commission as a fixed amount or percentage of orders
Customer referral program
Ability to specify the number of orders required to earn a discount
Login with reference to other customers
Ability to specify commission as a fixed amount or percentage of orders
Ability to specify price for orders
Language
Selectable default language selected from the customer's IP .
Domains can be specified per . language . This can be used for all English products must be produced on www.domæne.com
Settings
Enable or disable your store while performing maintenance
Enables IP on the shop even though the shop is disabled
Enabling SSL
Enable yellow help boxes in the administration
Offer gaveinpakning and price
Enable recycled packaging
Enable or disable your customer's shopping cart with last bought stuff
Set the time zone for your country
Enable or disable the VAT to be shown incl. or ex .
Allow ordering out of stock products
Enable or disable inventory
Enable or disable the list of volumes on product pages
Enable or disable Zoom in pictures
Enables minimum purchase of total order
Enables the number of days a product is new
Enables Re -direct a customer to the shopping cart after adding product
Pcs. page
Enables default order for sotering in the product list
Select the mail to be sent as HTML , Text or both
Select the font for your pdf files
Choose your unit of weight (in pieces, km, kg . Etc. . )
Setting the search in the shop
Tools
Enable or disable up to 30 different languages
Translate all texts in the shop
Create Shortcut in store administration
Leave subdomains for your domain (eg brochure.bakuri.dk )
Database backup
Add, modify, and delete pages
Watermark
Edit all your mail in the shop ( order, new customers , thank you for your purchase, etc. )
upcoming Features
"In the next version we are working to get made further advances in PrestaShop , and the exciting things we can mention the integration of financial systems , customer behavior , etc. .
[/symple_tab] [/symple_tabgroup]